Golf Development Committee Annual Report
Date published: 26 May 2023
Author: Cheryl Power
Kent has been unified for over 2 years now. Out of this was born the Golf Development Committee whose prime function is to lead the efforts in growing the game in the County by identifying and prioritising initiatives relevant to increasing golf participation generally in Kent.
Our main focuses last year have again been on our junior academies (which have included our academies to help bring young disabled people into the game), our competitions for young players who have high handicaps or none at all, and the Women in Golf Charter, to which we are signatories. We started our Kent Approved Academies for Women under the tutelage of Anna Smith at both the London Club and Tonbridge Golf Centre which have been very successful indeed.
Our junior academies are still run successfully at 6 venues around the county. The starting age can be as low as 6 years old and with our excellent county coaches in place we have a pathway for them to grow in the game, become members of clubs and hopefully one day progress to join our team squads and represent the County.
Through our Academies and with the help of our Professional coaches we have been able to support clubs entering the GolfSixes Tournament, run by the Golf Foundation, for young players with no handicap or a handicap of not less that 37.
To get these young people and other youngsters further involved, we run competitions to allow them to play on golf courses in the county in a most friendly and relaxed atmosphere. Our Invicta 10s Tour has proven to be a big success again with very positive feedback from parents and players and we fully expect an even bigger uptake in 2023.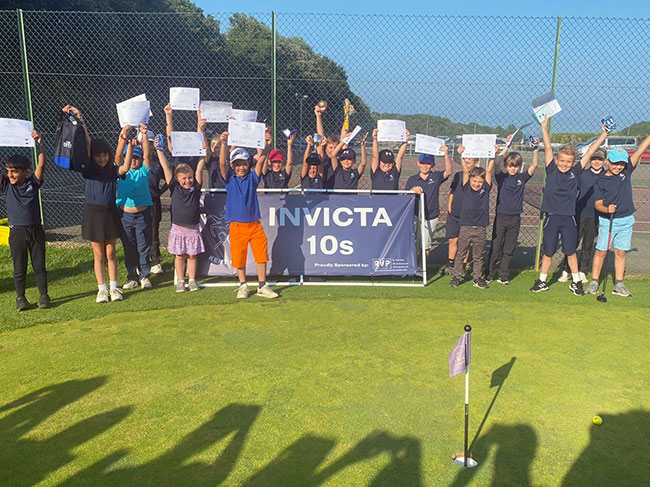 These children, plus slightly older ones (all under 13s), are able to enter our Futures Championships with or without handicaps and we hold four regional qualifying events during the summer culminating in a Finals Day. Whilst slightly more competitive, again the parents and children enjoy these relaxed and fun competitions.
Kent Golf knows the importance of promoting our game, aiming to provide equal opportunities for both boys and girls and always want to display a welcoming and inclusive positive public image at all our events.
2022 has seen the start-up of our academies for young people with disabilities. This has been an amazing learning curve and we are very lucky to have excellent qualified personnel working with these youngsters to introduce them to the game and to make it fun for them.
Again, the feedback has been amazing from the parents and players. They can't wait for the spring when they will start up again.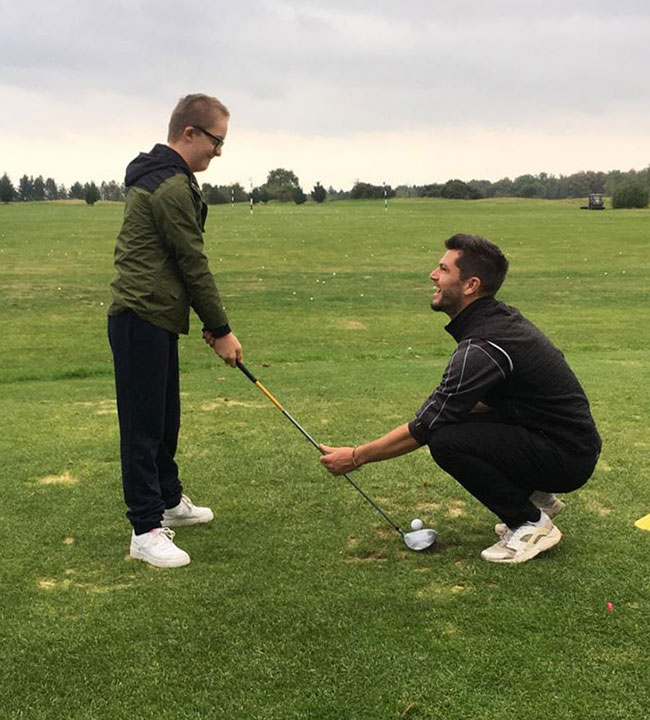 We have run disability academies at Stonelees and Tudor Park and we ran a very successful family day at Stonelees.
We are very lucky to have Kipp Popert on board (current English Open Champion and No. 1 in the World Rankings for Golfers with Disability) as our Ambassador to the Kent Golf Junior Disability Programme.
"It's awesome to be involved. Just met a kid called Tyler. This sort of Programme wasn't around when I was a child, where kids can get to meet each other in a safe and comfortable environment."
We are still in touch with the Variety Charity which, amongst other wonderful work with disabled children and children living in poverty, helps fund the provision of Sunflower Coaches to schools, to see how we can help by getting our clubs involved in fundraising in order to provide these coaches to their local schools.
Kent was heavily involved with Girls Golf Rocks again last year. We had great success and follow up sessions have been on offer for those wishing to take things further.
We held our second Women on Par event at the end of the season at Westerham GC, 'Pitching, Putting and Prosecco' which was very well attended and the feedback was very positive. Most of the women attending had never picked up a golf club before and had certainly never been on a golf course. Afterwards we enjoyed some drinks and nibbles which went down very well. The feedback was excellent and we are aiming to hold another event in the Spring along similar lines and we are expecting an even higher demand for places, advertising through social media, word of mouth etc.
We of course have 4 women Directors on our Board and our County Secretary, her assistant, our Golf Manager and many of our volunteer support are also women. There are also a growing number of our clubs who have women in place as Golf Managers so we are certainly doing our bit with regard to getting more women involved with the sport at all levels.
We have 19 of our clubs who have now signed up to the Women and Golf Charter and with us and our CSO engaging with our clubs, I know that many more will follow soon.
Our aim is to get more women involved with playing competitions both at their clubs and those run by the County.
With many girls coming through our academies (we have a girls only academy at one of our venues), and older ones who have come to the game through their Clubs, more are participating in our competitions, giving the boys a run for their money. We have a talent pathway for these girls and the situation is becoming very healthy in Kent.
In conclusion, on the Golf Development side of things, there is obviously lots more work to be done, but with a large Committee and great support, with lots of ideas going forward, we can only see a positive future for golf in the County.
>> Find out more about Kent Golf disability academies