Race to St George's North Kent Qualifier report
Date published: 2 Jun 2023
It may have been the first day of June but it felt more like midwinter at Sittingbourne & Milton Regis for the Race to St. George's North Kent Qualifier. The biting wind didn't deter our 51 intrepid youngsters – as well as our brave Kent Golf referees and volunteers – who ventured out on to the course to test their mettle.
With the course playing long and tough, good scoring was hard to come by. The best nett of the day was by Yu He (Sundridge Park) with a very impressive 67, which was enough to give him a three-shot victory over Finn Smith (Knole Park). Coming in in third place, with a nett 72, was Jasper Nutley-King (North Foreland). There were only four scores in the 70s in the scratch competition and a 78 from Dartford's Haiden Matos was enough to see him take first prize. Second place went to Kieran Parkins (Sundridge Park) with a 79, on countback from Martin Taylor (Redlibbets) in third.
The next qualifier will be at Broome Park on 24th July when hopefully we won't need mittens and woolly hats!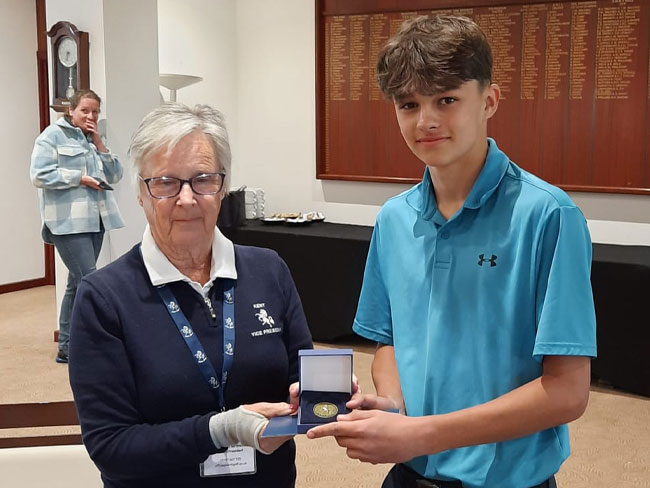 County President Marilyn Brown with scratch winner Haiden Matos (Dartford) 78