Junior County Match Week 2023 report
Date published: 16 Aug 2023
Sunday 6th August saw the Kent Girls' team have their team photos and group photos taken and then on to their final practice round with Coach Steve Mitchell. All went well.
Monday morning, with some nerves and excitement, we were first match off against Middlesex in the scratch singles competition. Some very good play and some excellent scoring saw Kent win 5-2. The other morning march saw Surrey beat Sussex 7-0.
After lunch, it was our turn to play Surrey. Our girls fought very hard, but Surrey were awesome, and we lost 1-6. Surrey fielded a team of girls with their highest handicap being 3. Skye Fontanelli was our sole winner in an excellent match. The second afternoon match between Hampshire and Middlesex resulted in a 6-1 win for Hampshire.
So, we were playing for 2nd place as Surrey now had two comprehensive wins.
Tuesday morning, we were again out first in our match against Sussex. The girls picked themselves up from the previous day's loss and pulled out all the stops, and won 6-1 with some excellent scoring and comprehensive wins. The second morning match saw Surrey win again with a superb win against Hampshire 6½ to ½.
The afternoon matches would decide who would be runner up to Surrey, and we were going to give it our best shot. Middlesex halved their match with Sussex so that the contest between Hampshire and Kent would be the decider, and the weather was not very kind.
Hampshire took the first match, the next was halved, and Kent took the next two. The remaining matches were tense, and the girls dug deep, but Hampshire held tight and won 4½ to 2½ on the last hole.
We still had something to play for as the final morning we played our Stableford Foursomes for the Sue Coombe Trophy. Another early start! The girls playing as pairs was a much less intense game, and they played well, although we did wonder if the putts would ever drop for some of the girls as we witnessed lots of lip outs. The scores the other teams posted were not seen, and the announcement at the Presentation that Kent had won was a huge consolation for their narrow loss for second place.
Hockley was a tough, demanding golf course beautifully presented with difficult slopey greens. Hampshire were excellent hosts and the week had a lovely atmosphere. The girls played their hearts out for each other. Sadly for Kent this junior County Week is the last for Sasha, Ellen and Tyra as they will be too old next year. We wish them well in their golfing journey and hope to see them fighting for a place in the ladies County Week.
Special thank you to the Kent supporters and parents.
Kent team:
Sasha Hellen, Dartford (Captain)
Emma Kwan, Chart Hills
Skye Fontanelli, Faversham
Anouk Woodhouse, Sene Valley
Ellen Wilson, Cherry Lodge
Claudia Carlotti, Canterbury
Tyra Skinner, Sene Valley
Chloe Samuel, Dartford
Teagan Ford, Bearsted
Coaches Tim Milford and Steve Mitchell
Report by Marilyn Brown
County President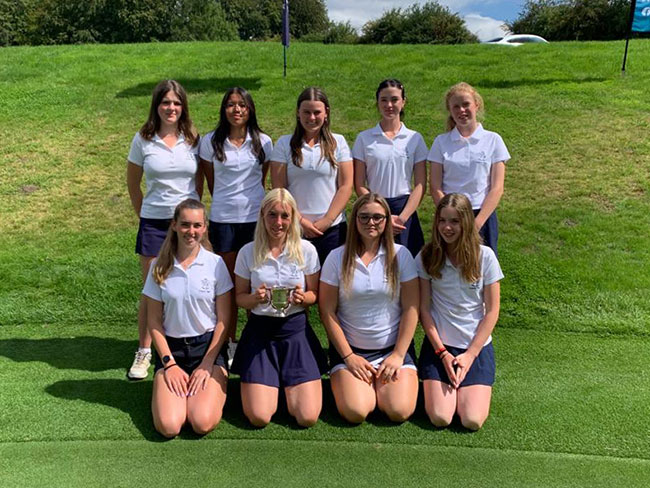 Kent Girls team won the Sue Coombe Trophy (Stableford) and came 3rd overall