Meet new Kent Golf Directors
Date published: 8 Sep 2022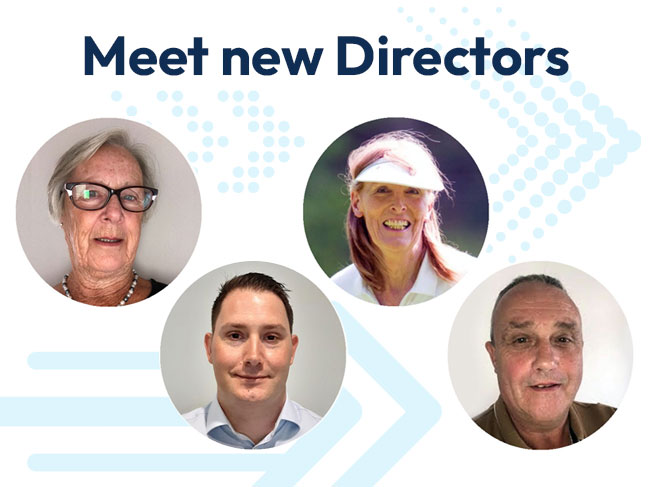 Photo left to right: Marilyn Brown, Lee Dyson, Angela Jones, Steve Armstrong
County President - Marilyn Brown (Mid Kent)
"My golf journey started at Corinthian Golf Club in 1989 before moving to Mid Kent in 1997. Two members at Corinthian encouraged the ladies to take part in the County Ladies' competitions and I subsequently joined the County Committee before being invited to be Competition Secretary, a post I held for five years.
I was very proud to hold the post of County Captain for the years 2008 and 2009 and have continued to serve the County in one way or another ever since. I became a Voting Member for England Golf for five years after the merger of the England Women's' Golf Association and the English Golf Union and have run competitions for both South Region and England Golf."
Marilyn is also a member of and Director of Mid Kent GC.
Finance Director - Lee Dyson
Lee is an experienced, qualified accountant previously acting for a diverse range of clients in many different industries. More recently, Lee has realised his passion for sport with his professional experience and now works in the sports sector where he works for The Football Association supporting individual County FAs who are the regional governing bodies. Lee supports County FAs with a variety of matters including improving financial reporting, internal processes and supporting business development and championing governance.
Away from his full time role Lee sits as a director on two boards supporting Kent FA and the senior football league in Kent which also encompasses trustee roles too. When not busy with finance Lee can be found exploring different parts of the world and enjoys experiencing different activities and cultures including playing golf socially with friends.
KG Representative as the EG Voting Member and SE Group Representative - Angela Jones (Canterbury)
Angela's working life has included senior roles in Barclays Bank, a European foundation with the remit to improve leadership and management in European organisations and a niche management consultancy focused on leadership.
Now that she is semi-retired she is working with England Golf both as a selector for the women's and girls' teams and as the captain of the senior women's team.
As a player she has represented Kent in the women's first, second and senior teams and is currently team manager for the women's senior team.
Joint Director of Clubs and Communications - Steve Armstrong (Mid Kent and Sidcup)
Member of two Kent Golf Clubs for over 14 years, Joint Director of Clubs and Communications and a volunteer member of the Kent Golf Finance Committee for the past two years.
Previously General Manager at Sidcup GC and Mid Kent GC, now retired. Steve is married with 3 children and 8 grandchildren.
Dave Mabbott (Eltham Warren) is going to extend his role to Joint Director of Clubs and Communications.