Kent Women's 1st Team at National County Finals
Date published: 22 Sep 2022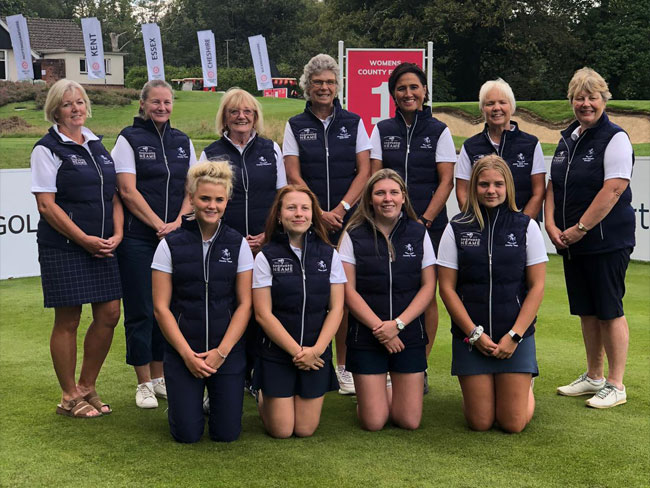 Team Kent left to right top row: Sandy Hallet (Prince's), Anne Wheble (Dartford), Chris Lohan, County Captain Tita McCart (Sundridge Park), Kim Morris (Sundridge Park), Junior Girls Team Manager Cheryl Power, Junior Girls Support Group Manager Judith Halliday
Left to right bottom row: Lily Cook (Boughton), Lucia Masding (Knole Park), Ellie Burdis (West Kent), Liv Heard (Chart Hills)
The Kent Women's 1st Team played the English Women's County Finals at Stoneham Golf Club (near Southampton in Hampshire) from Friday 16 to Sunday 18 September 2022.
Our Team qualified by winning the South Region County Match Week (CMW) at Burhill (link to https://www.kentgolf.org/news.php?newsitem=747) in June this year. The last time the Kent Team qualified for the English Womens' County Finals was in 2013 (Wilmslow, Cheshire).
Four of the original team who played at Burhill were unable to be at Stoneham due to already having departed for college in the USA as well as an injury. However, we were able to field some more 'mature' players with experience and, with a great team spirit, everyone played their hearts out trying to bring in points for Kent.
Kent had two very close matches losing to Essex (the ultimate winners) and Nottinghamshire by a narrow margin of 3/2. On the last morning Kent were victorious over Cheshire.
Stoneham proved to be a very hilly and challenging course, especially being set up at well over 6,000 yards long. However the weather was very kind to us and everyone had a fantastic time gaining lots of experience and having lots of fun along the way.
With thanks to
Our players:
Ellie Burdis (West Kent) – County Champion 2022
Lily Cook (Boughton)
Sandy Hallet (Prince's)
Liv Heard (Chart Hills)
Mary MacLaren (Boughton)
Lucia Masding (Knole Park)
Tita McCart (Sundridge Park)
Kim Morris (Sundridge Park) - County Seniors Champion 2022
Anne Wheble (Dartford)
Our Professionals:
Tim Milford
Steve Mitchell
Our caddies:
Jo Dennis (Knole Park)
Andy Halliday (Tandridge)
Judith Halliday (Cherry Lodge)
Tony Johnson (Sundridge Park)
David McCart
Gill McMillan (Sene Valley)
Dermot O'Connor (Dartford)
Our officials:
Chris Lohan - Past President
Cheryl Power - Junior Girls Team Manager
Judith Halliday - 1st Team and Junior Girls Support Group Manager
>> League Table and Match Results