Junior County Match Week 2022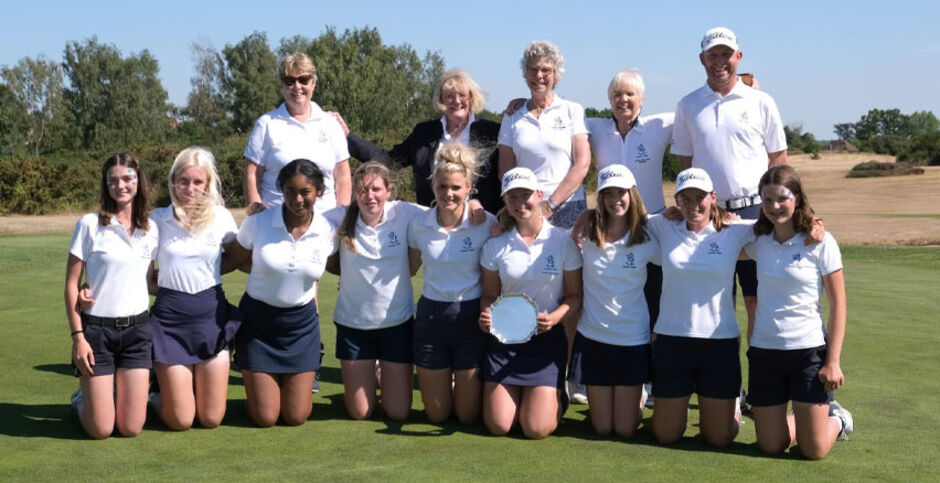 Kent win the Junior Girls County Match Week 2022! Read the full report here.
This year Kent are the host county of the 2022 Junior County Match Week (South Region) and it is held from 8 to 10 August at Kings Hill Golf Club www.kingshillgolf.com
FORMAT
Each County will play one match against each of the other Counties. The format will be seven singles Match Play. One point for a team win, half a point for a halved match and zero points for a team loss. No individual match will continue past the 18th hole. The competition will be played off scratch.
The Team not playing a match will play a Foursomes. Eight players named in the squad will play in the Stableford Foursomes, to be played over 18 holes. The competition will be off handicap. The pairings can be any combination of handicap.
RESULTS
ABOUT
The England Golf South Region Junior Girls County Match Week is an annual match between the Junior Girls teams of Kent, Surrey, Sussex, Hampshire and Middlesex.
TEAM KENT 2022
Ellena Slater (Kings Hill) – Junior Girls Captain
Ellie Burdis (West Kent) – County Champion 2022
Claudia Carlotti (Canterbury)
Lily Cook (Boughton)
Skye Fontanelli (Faversham)
Sasha Hellen (Dartford)
Laura-Mai McCarthy (Tudor Park)
Tyra Skinner (Etchinghill)
Anouk Woodhouse (Sene Valley)
Non-travelling reserve: Chloe Samuel (Dartford)
SPECTATORS
Are very welcome. It would be great to see a lot of blue and white supporting Kent.
HALFWAY HUT
There is no halfway hut, but the spike bar and clubhouse can be used.